Profile Maker
Profile Maker is designed to be as efficient and accurate a method of entering work profiles as is possible. There are built-in, enhanced editing tools. Also included are various routines and reports for reviewing and validating the information entered. The heart and soul of Profile Maker is the editing screen. Below is a typical view of such a screen.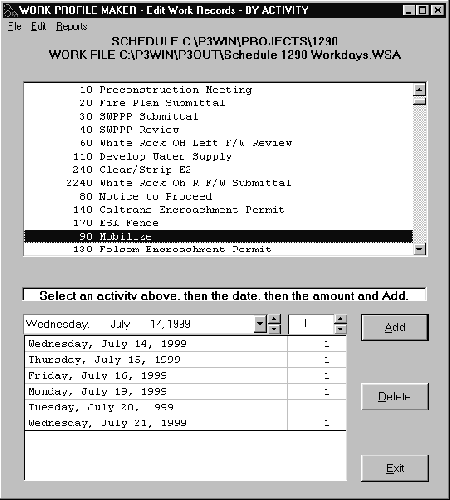 There are two types of edit screens, Edit by Activity and Edit by Date. You would use the mode that best fits your circumstances.
Use Edit by Activity when you have a list of dates the describes a particular task. You find the activity in question and the start date is displayed in teh date box. Chose this date or select another and then press the Add Button. Each time you do, a new work profile record will be added to teh database and the date will automatically be advanced by one.
Use the Edit by Date mode when you have documentation that is oriented by date, such as a daily log. Select the date in question and all activities that were 'active' at this time will be displayed in the box above the date. Click on an activity and press the Add Button. The activity is moved to the lower box, a work profile record is created, and the highlight automatically moves down to the next activity in the list.
Instead of just noting that work was accomplished on any particular date, you have the option of noting the number of work crews or work hours performed. This measurment must be consistant for all records in a work profile. The value can be used to factor remaining work in Work Destatuser or to insert into a Work Schedule Activity as a resource unit. You can also import and export to spreadsheets.
To help you create and validate your database, there are extensive cross-check and validation reports availale,
SA Profile Maker creates a database that is used directly by the following Schedule Analyzer programs,